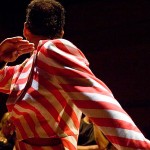 David Zambrano is the creator, choreographer, and ringmaster of "Soul Project," which returns to Swarthmore College from the Fringe Festival. (Photo: Anja Hitzenberger)
Merilyn Jackson, For The Inquirer
Posted: Thursday, September 24, 2015, 3:01 AM
Soul Project, a European hit since 2006, tours extensively, performing for intimate crowds that mill around its international crew of dancers as they solo to American soul and R&B songs. Swarthmore College helped bring it here as one of Fringe Festival's final shows, where the two-night run sold out at Christ Church last weekend. It reprises on Swarthmore's Lang stage Friday and Saturday.
Its creator, teacher, and choreographer, David Zambrano, is a Venezuelan who divides his time between Amsterdam and Brussels. He is something of a magical-realist Pied Piper – or a ringmaster.
A topknot sits where the ringmaster's top hat would be, if designer Mat Voorter had provided one – and the barefoot Zambrano is dressed only in wide red-and-white striped tails. And though he had no whip in hand, the audience meekly obeyed his invitation to enter from the cobblestone street outside. Lace-gloved Edivaldo Ernesto shouted, "Be careful!" and danced as we proceeded to the now-seatless fourth-floor space.
Each dancer found a spotlight, getting cues from an iPod Shuffle. That inflected a nice touch of chance for audience and performers, uncertainty causing everyone to shuffle around before finding where to be or look.
Slovak Peter Jasko, in sequined eyelids and Elvis jumpsuit, often danced low velocity, almost in place. In polka dots and hula skirt, the only woman, Slovenian Nina Fajdiga, blunted her most violent movements with catlike disdain. For us?
With a half-shaved head, South Korean Young Cool Park offered the most original, overtly political move of the night, goose-stepping out of his spot. Zambrano began with an energetic Pogo-dance in what I hope was a waggish wink at overwrought Jennifer Holliday singing, "And I Am Telling You, I'm Not Going."
Curiously, he chose mostly American soul songs of the '60s and '70s, concert recordings – to Philly ears, tired-sounding – rather than their dancier versions. Philly invented many social dances in that era – the Mashed Potato, Watusi, and, of course, the Twist, all of which morphed with dances from other cities into funkier club and house styles by the '80s. Gloria Gaynor's 1978 anthem, "I Will Survive," had an urgent rhythm we all danced to; here, the more saccharine 1982 version by Gladys Knight didn't get our dance cells grooving.
Instead, this cast of seven found Euro-grooves, isolating body parts in wildly opposing directions, flexing whatever they could simultaneously, hands almost flung off the wrists like the opera gloves in a burlesque show. These moves were like choreographic selfies – contact-improv for the soloist.
DANCE REVIEW
Soul Project
8 p.m. Friday and Saturday at Lang Performing Arts Center at Swarthmore College.
Admission: Free.
Information: 610-328-8200 or www.swarthmore.edu
Merilyn Jackson For The Inquirer
http://www.philly.com/philly/entertainment/arts/20150924_Review___Soul_Project__leaps_from_Fringe_to_Swarthmore.html#U4Mj737WPEjVK0W7.99