By Merilyn Jackson, For The Inquirer
Posted: January 30, 2015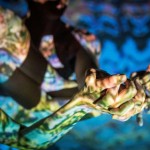 You probably know what continental drift is – but what's Choreo_Drift?
Simply put, it's the movement of choreographic ideas that relate to one another, to art and politics, and to society and communities across the continents. It's the brainchild of Italian-born, Sweden-based choreographer and theorist Cristina Caprioli, and the collaborator/dancers in her company, ccap.
The project, which takes many shapes, has this week drifted down from the Museum of Modern Art's PS1, in Queens, N.Y., to Philadelphia. Aaron Levy, a founding director of Slought, the gallery, lecture, and performance space on the University of Pennsylvania campus, is hosting its local premiere, "Choreo_Drift: Choreography and Disenchantment" – three days of multimedia, interdisciplinary performances, films, and conversations exploring choreography, embodiment, and power that's open and free to the public.
Caprioli and Tulane University's Felicia McCarren, author of French Moves: The Cultural Politics of le hip hop, opened the series Wednesday with talks and audience conversations, plus choreographic input of Caprioli's dance "att att."
Thursday features conversations with Temple University's Mark Franko, Egyptian choreographer/dance activist and archivist Adham Hafez, and Mattias Gardell, Swedish author of Gods of the Blood: The Pagan Revival and White Separatism. Again, there will be dance interludes throughout the gallery.
Choreo_Drift culminates with a collective talk followed by a full performance of Caprioli's Omkretz (Circumference) at the Annenberg Center on Friday.
Caprioli first came to Philadelphia last year to explore possible venues for Choreo_Drift, and, after meeting Levy, she decided Slought was the logical place to moor. She already knew Franko, who directs Temple's graduate studies program in dance, from his own choreography and his many books on dance, and it wasn't long before the three concluded his work and Slought's programming would mesh.
Temple's monthly dance colloquium is "the only program like it in the region," Franko says, "and the fact that we live-stream the colloquia, which is free to the public, makes it absolutely unique on the East Coast." He says people too often see dance only as play, or feel it can't be thoughtful or engage with ideas and politics, as do other art forms.
His 2005 book, Excursion for Miracles, dealt with his time in New York in the '60s with Paul Sanasardo and Donya Feuer, cofounders of Studio for Dance. Feuer (1934-2011), was a native Philadelphian who eventually moved to Sweden and was a longtime collaborator with director Ingmar Bergman.
So when Franko came to Philadelphia two years ago from the University of California at Santa Cruz, there were connections linking him, Philadelphia, and Caprioli.
"Cristina had invited me to Stockholm several times," he said. "I'm never quite sure what I'm supposed to do or if I'm doing enough, but she just likes to have certain people around to bounce off of."
When she was organizing a conference in Stockholm in 2010, she invited him to help her program it.
"It was called Weaving Politics, and she's been extraordinarily generous. She provided an apartment for me for a month," Franko said. "She brings me so that I can just be there. And I work, I write, we talk, I interact with the company." He helped conceptualize the conference, which brought together choreographer William Forsythe and Bulgarian French philosopher Julia Kristeva, who called dance "a nimble movement of incorporated thought."
Afterward, he proposed publishing the paper that resulted, "but Cristina said, 'No, it's your paper, but you should keep developing it, let it drift.' So she's the one who made the connection for me with Slought."
In a Skype interview from MoMA last week, Caprioli proved an animated 61-year-old who seemed much younger – dancers tend to age less dramatically than the rest of us.
"I am convinced that choreography is not only the best [art] form to buy a ticket for, it is also an orchestration of encounters, the setting up of encounters between different minds," she said. "I hope we give audiences the possibility to enter the choreography themselves, but also to intellectually stimulate the publics we encounter, more than just satisfy them and try to do it very gently, not aggressively."
"I really cherish this. It is a shame for dance and choreography to be still happening in conventional theater. It's not really about just watching a piece, but to share the event of the piece. It's so easy to get into this product thinking."
Omkretz, which had its world premiere in October in Florence, Italy, "has two dancers and a musician on a saxophone. The live music gives it a strong atmosphere.
"The dancers and the music are dealing with the idea of throwing the bow and arrow – thrust, momentum, trajectory, and distance," said Caprioli. "When they come to the edge, they have to turn and drift back."
http://articles.philly.com/2015-01-30/news/58591641_1_dance-choreography-slought