Merilyn Jackson, For The Inquirer
Posted: Saturday, November 9, 2013, 3:01 AM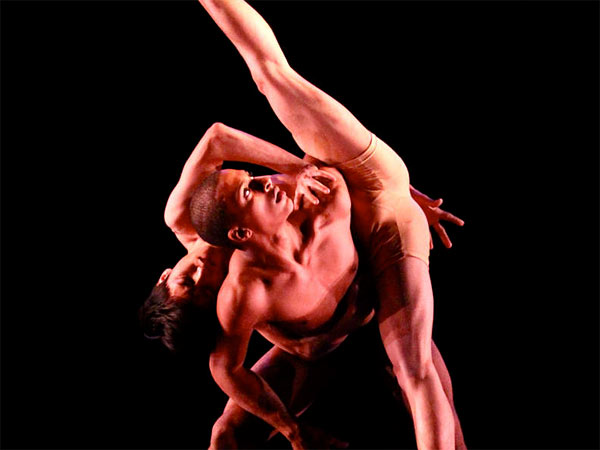 Brian Cordova and Liu Mo in Kun-Yang Lin's 1999 "The Song That Can't Be Sung," a gut-wrenching duet of forbidden love.
At the Painted Bride on Thursday night, the artists of Kun-Yang Lin/Dancers bared heart and soul, combining them with superb technique.
This retrospective evening of dances choreographed by Lin (first seen in New York through the 1990s to 2001) included four that received Philadelphia premieres. Lin moved the company here just five years ago, building it into the highly regarded Philadelphia fixture it now is, with a studio called Chi-Mac on South Ninth Street.
Liu Mo – whose background is Chinese classical dance and who has trained in contemporary dance with Lin for only about a year – takes the powerful solo "Moon Dance" (1993), originally danced by Lin.
Stepping onstage, he instantly put me in a thrall that lasted to the show's final moment. Bare-chested and wearing a long muslin skirt, he angled wing-like arms, jerking them into flying motions. With astonishing balance, he ever so slowly dipped his head to the floor in a perpendicular arabesque. Then, mercurially, he changed direction, channeling Lin's intensity while making the dance his own.
Lin and another male had originally danced "Run Silent, Run Deep" to Les Tambours du Bronx's music and narrated poems. Here, with Evalina Carbonell bursting onto the stage, skittering in jarring spurts of movement, the evening's thrill ride continued. Vuthy Ou joined her, and the pace grew more ferocious, with daring leaps, lifts, and catches that then slowed as she sensuously slithered downward along Ou's body to his ankles.
In yet another revelation, Rachael Hart stuttered across the stage as if with a broken wing, struggling to stay in flight and mournfully dauntless in her trajectory in 2000's "Butterfly" to "Un Bel Di."
Former company member Olive Prince created "to dust." (Disclosure: I've taken barre class with some of these dancers, including Prince; the most recent was in August, days before she gave birth to son Noah.) She had the company rush offstage and reenter to pose and slouch away, shoulders sloping, bodies angling into and out of stunning groupings. Prince later soloed in Lin's 1998 "Renaissance," exquisitely emerging chrysalislike from her cocoon of red netting.
Mo's feminine litheness melted into Brian Cordova's masculine strength in 1999's "The Song That Can't Be Sung," a gut-wrenching duet of forbidden love. The full-company tango, 2001's "Shall we . . . ?", had a cheekiness best expressed by Jessica Warchal-King and a drunkenness best articulated by Eiren Shuman. Flawlessly danced with spiky footwork and sexy, thigh-brushing barridas, this was no milonga triste, but a happy ending.
Read more at http://www.philly.com/philly/entertainment/20131109_Superb_Kun-Yang_Lin_Dancers.html#gAUSw1jWYSfxJ6O2.99