Posted on Fri, Jul. 22, 2011
By Merilyn Jackson
For The Inquirer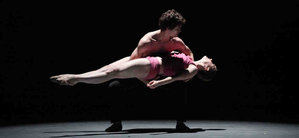 ALEXANDER IZILIAEV
Barry Kerollis and Chloe Horne dancing in BalettX's performance of Amy Seiwert's "It's Not a Cry."
Two impressive world premieres by Annabelle Lopez Ochoa set BalletX's summer season ablaze at the Wilma Theater on Wednesday evening.
Ochoa has choreographed for the company before, and Laura Feig and Adam Hundt danced her Bare with charming tenderness. In ordinary underwear, they languidly spill over each other, entwining and uncoupling as if drowsy with morning love.
Duets perpetually serve as studies of coupledom, and Amy Seiwert's It's Not a Cry explores the couple over the long haul. To Jeff Buckley's cover of Leonard Cohen's hallowed anthem to love gone bitter, "Hallelujah," Chloe Horne and Barry Kerollis appear in separate spotlights. If Kerollis pulls Horne along in a slide, she convulses in mid-glide and twists off in the other direction. It seems they'll never make it work. Yet by the final iteration of "Hallelujah," the two are coiled together, bathed in a single pool of light.
A Soliloquy Among Many, by Roger C. Jeffrey, opened the evening with costumes by Loris Doran that evoked a medieval theme – monk-brown skirts, flat suede boots. The group sections looked crowded at times, but Horne, as the lead, drew me in with her lissome solo.
En Dedans, a short film by Gabrielle Lamb, served as an entr'acte. Voice-overs reveal the individual thoughts of the company's dancers in rehearsal, making apparent the hardships, pain, and doubt artists endure to bring us the pleasure of their company.
But it was Ochoa's morbidly sad, yet freakishly beautiful Castrati that ended the program with an unexpected concept – a study of the "last seven castrati" who endured being maimed for life in order to acquire voices that could range over three octaves.
Along with Colby Damon, Jesse Sani, and Hundt, Ochoa smartly used four female dancers whose long, smooth limbs resemble those developed by boys after prepubescent castration.
Avid Arik Herman's golden masks and marquisette and faux brocade costumes recalled the foppery and excess of the era. Music by Friedrich Handel and David van Bouwel wrapped this gorgeous lot in the high-pitched voice that sounds as dismembered as the body. Various tics and exaggeratedly grotesque gestures expressed how damaged these performers were. Damon's overly courteous bows drew laughter. Hundt, extracting his voice from his yawning mouth as if it were a long silken scarf, drew pity. Tara Keating, lying leopard-like off to the side, surveyed the audience as if all this were our fault.