Merilyn Jackson, For The Inquirer Published Saturday, January 18, 2014, 3:01 AM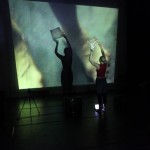 ZORNITSA STOYANOVA Susan Rethorst's "THEN" packs a lot of information into its 50 minutes.
The world premiere of Susan Rethorst's THEN, with Group Motion and artistic director Manfred Fischbeck, was a bright, cheery, even cheeky little dance, only 50 minutes long. But it packed a lot of information into that short time.
A presentation of Philadelphia Dance Projects, in conjunction with the University of the Arts School of Dance, the new work encapsulates Rethorst's first year in Philadelphia, which began last season at Bryn Mawr College. Her "Wreckings" have been a hallmark of her creative exploration and research. In them, she allows other choreographers to take over her dance rehearsals to deconstruct or even destroy her work before giving it back for her to return the favor.
In light of this risky practice, it seemed that THEN's clean, concise sections, like much of Merce Cunningham's work, could be reordered for each performance and still be highly readable. Watching it through this lens, I thought it wouldn't matter if I began this review by describing a middle section and then cycling back to the beginning, or by writing about the ending first.
So the second section has Gregory Holt doing a snaky Mick Jagger strut. Several sections have ice-dancing moments: death spirals and side-by-side forward waltzing. But all are marked by exaggerated and risibly dramatic silver-screen-style gesturing.
Lindsay Browning rubber-faces expressions hilariously while tossing away David Konyk and Holt with a mere forefinger. Konyk and Holt hopscotch over Eleanor Goudie-Averill and Browning's splayed bodies. Lesya Popil glyphically poses, surrounded by the others as if in mock awe. In unison, all rise on tiptoe, calves trembling as if this is a difficult feat. But then an instantaneous return to control shows it's nothing. There are horsy head wags, madcapping to the theme from Beetlejuice, slo-mo running.
Also strongly visible was the architectonic display of how the body stands or responds; such displays created living sculptures among the dancers. Renée Kurz's playful costumes of dark, loose pants fringed in red just below the knees and swingy tops of red, turquoise, and yellows added a certain smirkiness to the whole. The shapes and colors against the charcoal back wall often made me think of a Miró painting, animated.
All of this began and ended with video of the dancers by Rethorst, lighting designer Matt Sharp and the dancers, first on long, white planks – moved about by the dancers to "wreck" the picture – and later danced with. And then the video rides the walls until it disappears, and the dance is over. The word then may imply sequence, but THEN is a work that doesn't need to follow that rule.
Additional performances: 8 p.m. Saturday, and 3 p.m. Sunday at Arts Bank, 601 S. Broad St. Tickets: $25. Information: 484-469-0288 or www.danceboxoffice.com