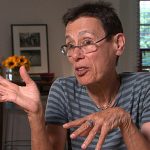 Courtesy of the artist:Choreographer Yvonne Rainer will be celebrated at a mini-festival Oct. 15-19 presented by Philadelphia Dance Projects.
Updated: October 13, 2016 — 3:01 AM EDT

by Merilyn Jackson, For The Inquirer
Beginning in 1962, Yvonne Rainer, along with other dance innovators of the last half-century, experimented at the Judson Church in lower Manhattan. They became the Judson Dance Theater, and by 1964 they spun off in their own orbits without losing touch with one another. Rainer wrote her famous "No Manifesto," which attempted to negate American dance conventions. Rainer now says the manifesto "dogs my heels," but some of its dictums continue to shape contemporary dance to this day.
Rainer will be celebrated Saturday, Sunday, and Wednesday in a mini-festival arranged by Terry Fox, director of the Philadelphia Dance Projects, who met Rainer at the American Dance Festival in 1969. On Saturday and Sunday, there will be dance workshops on Rainer's seminal work, Trio A, at the Performance Garage. Wednesday at Christ Church Neighborhood House brings a screening of a Jack Walsh documentary on her, Feelings are Facts: The Life of Yvonne Rainer. Rainer herself follows with a talk, "What's So Funny? Laughter and Anger in the Time of the Assassins."
Walsh has been recognized for decades for his film work, and his documentary on Rainer's life is his directorial debut. It premiered at the Berlin International Film Festival in 2015, the same year he received a Guggenheim Fellowship. The title comes from Rainer's 2006 memoir, Feelings are Facts, a truth expressed by one of her psychotherapists.
In a recent phone conversation, Rainer spoke of her parents' decision to send her away at around age 5 to a boarding school.
"Oh, yeah," she readily jumped in, "that resulted in therapists most of my life. My mother was emotionally very frail. I was premature, and she hadn't properly prepared my brother Ivan, who was four years older. He showed a lot of hostility to me, and they didn't know how to deal with two lively children. My father went along with it. She had to get rid of us for her own sanity."
The boarding school "was a beautiful place in Palo Alto," she said. "My brother remembered only good things, and I remembered the punishments and regimentation. Two women who may have been lesbians ran it. It was wartime, and most of the children were there because their mothers were working and the fathers away in the army."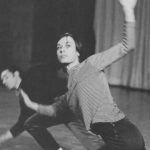 Her shockingly cool and intellectual dance Trio A was created in 1966, initially as the first part of a larger work titled The Mind Is a Muscle. This dance marks her rejection of audience seduction, elaborate smiles, flourishes, and spectacle. Yet at times her work shows a possibly unconscious neoclassical sensibility, as in Trio A, when her pointed toe skitters through a ronde de jambe like a pebble skips across a pond.
She turned to filmmaking in the early 1970s. "I feel very warmly about my first film, The Lives of Performers," she said. "I never did anything like that again. It's much cruder in a way, and out on a limb as far as strategies go. And then, I guess, Privilege and MURDER and murder are much more elaborate, with professional actors." Of Walsh's documentary on her, she said, "I have nothing but admiration for what Jack did. It's pretty inclusive, classic talking-heads documentary, and still being shown after a year."
She turned back to choreography in 2000, when Mikhail Baryshnikov commissioned After Many a Summer Dies the Swan. "It was a very unique experience working with a dancer of his celebrity," she said. She calls the conditions at the Baryshnikov/Mark Morris White Oak Dance Project, near Jacksonville, Fla., "very sumptuous."
At 56, she met and began a domestic life with artist Martha Gever. "Martha is better educated than me," she said. "I pay attention to her opinions, and I show her my work. She is very appreciative, and we're still together."
Is she bored with dance now? "No," she said emphatically, "dance now is going in all different directions. Just last night, I saw the latest work of Deborah Hay. I think it's the best thing she's ever done. And also recently, I saw a French choreographer do a work on four hip-hop-trained women."
Her legacy, Rainer said, is "in the hands of my current group of dancers, and my archive is up at Getty Research Institute in Los Angeles. In fact, Steve Paxton and Simone Forti and I are performing Tea for Three in a gallery in Los Angeles in November, so dance goes on."
http://www.philly.com/philly/entertainment/arts/20161013_Philly_dance_world_celebrates_modern_master_Yvonne_Rainer.html