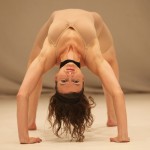 Izabela Chlewińska in Tralfamadoria
By Merilyn Jackson
For the Inquirer

Posted Sept. 16, 2012
Three Polish dancers made their American debuts Friday evening at the modest Mascher Space up on Cecil B. Moore Ave. Though their paths have crossed in Poland and two have worked with each other in the past, their movement esthetics diverge except for the fact that each uses sound/music very minimally, if at all. Izabela Chlewińska lives and works in Warsaw, but has also performed in Germany, Mexico and Japan. In a doll-like little white dress, she writes out the story of her concept on an easel filled with large sheets of paper. She takes us to the land of Tralfamadoria, a riff on Kurt Vonnegut's work (which was very popular in Poland) in that her work is non-linear, episodic and elliptical. It's when she strips to her body stocking that we see what an original mover, even a contortionist, she is. In the Zoo section, she takes to the floor in an exquisitely high back-bend, head facing us and scuttles crab-like from side to side. She strikes sharply angled poses, bent-elbowed arms splayed out along her body while her chest and torso rise pointing to the ceiling or lies on her side like an odalisque or such as you might see when a leopard is in repose. Finally, she dedicates the dance to her father. But why? Did he introduce her to Tralfamadoria? Is this a remnant of a childhood memory lived just before the bizarre life lived under Communism dissolved? Maybe nothing of the sort, but I love works that raise more questions than they can answer.
Marysia Stokłosa's Vacuum didn't spare us from questions either. Wielding a vintage Electrolux canister vac (I had a similar one for many years), she literally swept the entire large space with it, criss-crossing from right to left, even insinuating it under the feet of the people in the front row. She re-covered the entire space from front to back running in reverse, so I thought, probably incongruously, of a warp and weft imaginary weaving of the space into one large fabric for her to dance upon. Lest you think this sounds too serious, Stokłosa disappears into a side restroom and runs the shower returning to us in a bathing suit the same vintage as the vacuum cleaner, and sopping wet, belly flops on the floor, flinging and flopping like a fish out of water. To Chopin, she dries her hair with the vacuum. Hah! Is she saying it's time for Poland to wash that fusty romantic self-image away? I hope so, but that's just me.
Each dance seemed born of a big idea realized with an economy of movement and a great take-it-or-leave-it confidence including the final work, Le Pas Jacques. By Magda Jędra, who is co-founder of Good Girl Killer in Gdansk, she starts with both feet planted on the floor while she scoops and swoops the air with her arms. She pulls a Babci shawl from a nearby paper bag and ties her ankles together with it, her wrists with another piece of clothing and then bruisingly jumps around, falling often until she loosens her bonds. I had to leave for another show so I regrettably couldn't stay to see the rest. But I ran into her at the supermarket today and she had cabbages in her cart for tonight's show. So, Kapusta anyone?
$15 Mascher Space, 155 Cecil B. Moore Ave. tonight and Sunday night, 8 p.m.