Posted on Sat, Oct. 29, 2011
By Merilyn Jackson
For The Inquirer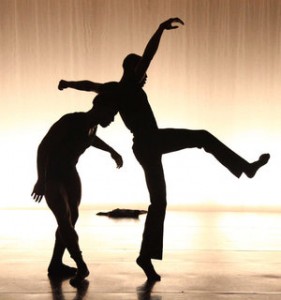 Carbon Dance Theatre made its Philadelphia debut Thursday evening at the Performance Garage with Swan Songs, a serious contemporary ballet program that uses the final songs written by classical and contemporary artists just before their deaths.
Carbon's founding artistic director, Meredith Rainey, invited Jaamil Olawale Kosoko, a master character developer and choreographer, "to take the edge off" in the pauses between the four works. In this program, he is Jeremiah, a seriously funny MC who reads poems (some his) and drolly recounts his time spent on safari or in Peru.
Rainey is a former Pennsylvania Ballet soloist and this year's A.W.A.R.D. show winner for a duet he choreographed and danced with Sun-Mi Cho, Carbon's artistic associate. He created two works for the program and invited works in the last-song theme from 2007 Pew Fellow Kate Watson-Wallace and Matthew Neenan, choreographer in residence at the Pennsylvania Ballet and a founding director of BalletX.
Rainey's Through the Wake centers on Cho, whose beautiful, classical ballet training holds it together. Felicia Cruz and Anna Noble, both fine dancers, seemed ill at ease in Rainey's ballet choreography, at least on opening night. Rainey has Daniel Moore and DuJuan Smart Jr. twisting the women between them like drenched sheets in two pas de trois. To Richard Strauss' last lieder, sung by Jessye Norman, the dance longs for the peace that comes with death.
Neenan's Tell Me What's Next is danced in a dark and intimate style, to songs by Nick Drake, the young English singer-songwriter who died in 1974. In jeans and cutoffs, four dancers make beautiful, slithering arm exchanges, shifting their weight low to the ground.
I Spiral Into Water is Watson-Wallace's first work on a stage after years of site-specific work, most famously Car. What a lovely thing it was to watch her work with four ballet-trained dancers. The men's personalities came out in a spiraling, athletic duet and her choreography to Jeff Buckley's "Everybody Here Wants You" and Amy Winehouse's "Back to Black" entranced me with its tiptoe dancing, slouches, spasmodic embraces, and free falls.
The strongest work, Rainey's Waiting Room, featured Alex Ratcliffe-Lee, an exceptional young danseur seen last weekend in the Pennsylvania Ballet's Jeu de Cartes. Although Moore executes a perfect six o'clock extension while prone, Ratcliffe-Lee's elegant port-de-bras and elasticity and Cho's intense focus are what's needed to carry Rainey's choreography.
With a little more polish, Carbon should become the new jewel in Philadelphia's dance diadem.