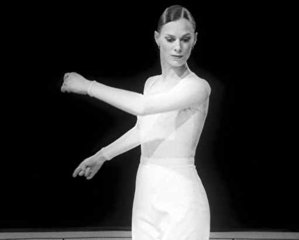 NATHANIEL TILESTON
By Merilyn Jackson
For The Inquirer
You are sitting in silence as a black-and-white freeze-frame of phantom dancers appears on a scrim across the front of the stage, the opening shot of a film by artist
Sol LeWitt
. Then, like a startling squall, Philip Glass' pulsing music jolts you into vigilance and live dancers leap from the wings, turning, tilting their upper bodies sideways, arms outstretched.
The burst of flutes, voice, keyboard, and piccolo gathers turbulently as the dancers bubble across the stage in overlapping torrents – eight, but there seem to be twice as many exiting and entering, over and over, on a grid on the stage floor. The images on the scrim reanimate, oscillating, expanding the effect of a host of dancers.
You are engulfed in Dance , choreographer Lucinda Childs' germinal 1979 work, a highlight of this year's Live Arts Festival/Philly Fringe.
Read more: http://www.philly.com/philly/entertainment/102144029.html#ixzz0ygeTs2y5