From: The Dance Journal @ PhiladelphiaDANCE.org
Oct 11th, 2010 | By Merilyn Jackson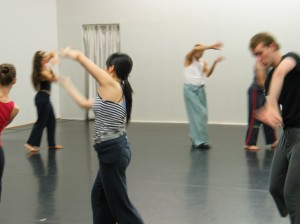 The martial arts and martial arts training are practiced internationally and in recent decades they have played a role in reshaping dance and choreography in the United States and Europe. By studying and training in any of the martial arts, a dancer's body absorbs movement and takes on a different look in motion. For example, when modern dancers, and even some ballet dancers, see the elongated limbs and fluidity of Asian-trained dancers' bodies they often take advantage of some kind of Asian martial arts cross-training. They may take Tai Chi for its slow-movement that stretches and strengthens the joints safely.
The Afro-Brazilian discipline of capoeira, called the "Dance of War," is also popular. It evolved when slaves disguised their movement as dance for the entertainment of the slave-masters  – who would otherwise have banned it. Taking capoeira classes greatly enhances athleticism, timing, bounce and rebound for contact-improv, release-technique, hip hop and dancers of many other forms.
The tradition of martial-arts training and other non-Western approaches reaches into theater, dance, and performance art. Brooklyn-based choreographer Peggy Choy (The Ki Project) says she "squeezes the pulp from Asian Dance, martial arts and contemporary dance." Choy often uses the jazz-based music of composer/saxophonist Fred Ho who has also created a number of works based on martial arts and dance. (http://www.bigredmediainc.com)
Anyone who has seen Kun-Yang dance is aware that he embodies discipline and movement resulting from martial arts training. In the second layer of his five-month training intensive, Lin invited Sifu (means master, tutor or teacher) Chik Qadir Mason to introduce martial arts disciplines to his company, Kun-Yang Lin/Dancers, and others who enrolled in a class for the training. Mason began on September 12 with Chi Kung, the original art as it was practiced in old China, and by the project's end Mason plans to have them practicing the more modern Tai Chi.
An Armenian American, Chik Qadir Mason calls himself an Internal Arts Instructor. He operates Spirit Wind Internal Arts (http://www.spiritwindinternalarts.org/) in Buffalo, Toronto and now is back in Philadelphia where he began 4 decades ago. The Chi Kung specialist's hawkish profile belies his gentle, graceful way of moving and speaking. You may have seen him perform The Dance of the Dragon at the Museum of Natural History in 1999. http://www.youtube.com/watch?v=VriAbh74_gQ
Externalizing the Internal
As the first master teacher in the project, Hsu-Hui Huang from Taiwan's famed Cloud Gate Dance Theater said, "We want to help them externalize their internal energy." Among other practices, breathing exercises help the dancers go deeper into concentration which allows them to bring more organic nuances to their dancing.
Breath did not enter into Mason's first two sessions, but I it will as he progresses. I'm involved in the project as its chronicler. But instead of merely observing and reporting, I decided to internalize the external and took part in the first two sessions. For someone who isn't sufficiently physically active, the first slow and gentle session was just enough to get me feeling stretched and energized. I liked it. The second week was a little more rigorous and I (mostly) completed that one as well.
I know how dance feels. But I didn't know how performing a martial art would feel. Now I get that it trains a different kind of muscle memory than dance. For one thing, the feet are more firmly planted on the floor, not poised for jumping or relévè. But the knees are almost always in slight plié which would give you the spring for jumping.
The 61-year-old Mason is spryer than men half his age and moves rapidly between exercises. In one exercise, Swimming Dragon, he says "The body wants to move like a dragon and the arms like a snake." The dancers pair up, with one taking an active role and the other inactive, or reactive.
I later mention to Mason that I saw the seeds of contact-improv.  "Yes," he says, "contact improv and release technique dancers often borrow from these exercises."
Mason says his teachers in Hong Kong, where he studied from 1982 to 1987, had been bodyguards of Chiang Kai Shek, President of the Republic of China (Taiwan) until his death in 1975. He also studied with author and teacher Lao Shi Adam Hsu in California where he achieved Wu Tang Kung Fu Black Belt Status.
Mason laid out a very clear program for his workshops which include teachings by Hsu in the last two October sessions, the 24th and 31st. In November he moves into fundamental stance-punch-kicking drills that end in fighting duets.
On Sept. 18 Hua Hua Zhang, a master puppet artist, began her workshops for actors and dancers which last through the end of October. Mason's sessions continue weekly through December 5.
You need not be a dancer to take any of the workshops, but participants pay a small fee. An Open Dialogue on Dec. 5 is free. Funded through a Dance Advance grant, all workshops take place at the Chi Movement Arts Center, Lin's studio at 1316 South Ninth Street. www.kunyanglin.org
ShareThis