Merilyn Jackson, For The Inquirer
Posted: Sunday, August 30, 2015, 3:01 AM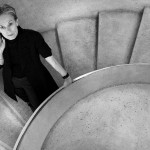 BERLIN – Approaching 75, choreographer Lucinda Childs carries her dancer's body regally. Her high cheekbones and upturned collars reinforce the queenly effect. But though she's a grand dame of American dance across Europe, her work has been more or less on hiatus in the United States until recently.
Childs divides her time between Paris and the world, her current company based in New York and at least two revival projects touring regularly.
Philadelphia saw her seminal Dance, created in 1979 with composer Philip Glass and artist Sol LeWitt, at the 2010 Fringe Festival. And now her minimalist 1983 Available Light comes to Philadelphia for its East Coast premiere as a headliner in this year's Fringe Festival, which begins Thursday. This month, it ran three nights at the Berliner Festspiele at the Tanz im August Festival, now in its 27th yeaAvailable Light was originally a site work for architect Frank Gehry's then-new Temporary Contemporary at the Museum of Contemporary Art, Los Angeles. Beverly Emmons, Childs' lighting designer, worked with Gehry and the overhead skylight that joined two buildings, coating them with gel to diffuse the light. Childs collaborated with Gehry on the set and with composer John Adams on music. (He called his piece Light Over Water, and still does; Childs renamed it for the dance
In the spring, she revised Available Light at the Massachusetts Museum of Contemporary Art, and Gehry, now 86, redesigned the set for the proscenium stage, making it portable for touring – with a platform above the main stage, staircases on either side, and a chain-link fence backdrop. It will be installed at the Drexel University Armory at 32d Street and Lancaster Avenue.
"Ironically," says Fringe Arts director Nick Stuccio, "the armory has marvelous windows all around, but since the scheduling is for night concerts, we won't be able to use the available light." So the windows will be covered and Emmons "will bend the lighting design for the Philadelphia space."
"The project was first conceived by Julie Lazar," Los Angeles MOCA's curator in 1983, said Stuccio. "She commissioned the work and brought Gehry, Adams, and Childs together in a kind of shotgun wedding."
In an interview just before the final show in Berlin, Childs mused wryly, "It was more like a blind date. We all knew of each other but we had not met."
Gehry was already known as a sculptural architect, but Childs was beginning to view her work in cinematic terms. In an early interview with Lazar, she pointed out how in film, information is shifted around, there is repeated action and backtracking to the original material.
"Frank knew about Trisha [Brown, from Childs' early days at Judson Dance]. But he came to my studio and I showed him some material, just so he could see the way I moved," she said. Gehry told the Los Angeles Times in June, "It was probably one of the most unforgettable experiences of my life."
He ultimately came up with the two-tiered stage that echoes Sol LeWitt's 1979 ghostly film of Childs hovering in the background in Dance. It also underpins Childs' "geometric and mathematical ideas to organize material and to arrive at some kind of expressiveness."
Since Stuccio brought Childs to Philadelphia five years ago, she's reconstructed shorter pieces with Philadelphia dancers at the Performance Garage, performing them at the FringeArts space. She recently mentored local dancer/choreographer Megan Bridge for her piece based on Robert Ashley's opera DUST in the spring. Bridge says "learning how to make a storyboard or score à la Childs" helped her greatly in her own work.
I asked Childs whether I could see one. "Yes, they're in the U.S. now," she said, ultimately to be donated to a museum in Paris, "but I'll send you the score that inspired Frank. . . . I don't think a collaboration is artists' giving each other an assignment" – though she did ask Adams for a piece at least 55 minutes long.
Just as the impetus for the Dance revival was to preserve LeWitt's decomposing 35 mm film by creating a digitized version, Available Light became an opportunity to update Adams' 32-year-old multichannel electronic piece with contemporary technology. For this re-creation, "John added he what calls a few windows of pulsation for the dancers to hold on to."
And Kasia Maimone designed new costumes. "The old costumes from 1983 by Ronaldus Shamask did not suit these dancers and seemed dated," Childs said. "We kept the color scheme – red, white, and black – which was my request from the beginning of the collaboration."
She insists they are not just restaging a historical artifact; they are producing a fresh piece of art, molded by new spaces, vastly updated technology, and different, more highly trained and technically proficient dancers. "The dancers of today bring to it a certain style or quality," she said. "This group has a more uniform look, and they are all ballet-trained." They will include Caitlin Scranton, who so spectacularly performed Childs' role in Dance, and the tall, lanky Ty Boomershine.
Though she holds that these technology-dependent recreations are important for preserving the works of all the artists involved, in the near future, Childs says, "I'm not so much working on any more revivals. I'm continuing my practice of working with a composer and an artist – a new project with Philip Glass and James Turrell."
More Fringe dance:
Another festival favorite, Norwegian choreographer-director-playwright Jo Strømgren, returns with three diverse works, one of which, The Border, is less theatrical and very dancey, to use the technical term. It goes up against the three Available Light performances but at different times, making this "must-see" possible to fit your schedule.
On the festival's final weekend, David Zambrano will bring his frenzied, high-intensity Soul Project, with an international cast of virtuosic dancers performing solos to songs by artists including Aretha Franklin and James Brown.
Another import, Still Standing You, with Pieter Ampe and Guilherme Garrido, promises to be the killer dance piece – or, if not killing, perhaps maiming. These two highly skillful dancers take (naked) male roughhousing over the edge. Bring an open mind.
Of course, there is lots of terrific Neighborhood Fringe dance to look forward to, as well: it's not me it's you, by real.live.people.durham; Of Our Remnants, Olive Prince Dance; Arielle Pina's Unarmed; 2000 Movements, Gregory Holt; Purgatory, Gunnar Montana; and, of course, American Standard by Brian Sanders' JUNK. It just wouldn't be Fringe without JUNK, would it?
DANCE AT FRINGE
Available Light 8 p.m. Sept. 10-12, Drexel Armory, 32d and Lancaster Ave.
The Border 9 p.m. Sept. 9 & 11; 6 p.m. Sept. 10; 2 p.m. Sept 12, FringeArts. 140 N. Columbus Blvd.
Still Standing You 7 p.m. Sept. 9-11, Painted Bride, 230 Vine St.
Soul Project 8 p.m. Sept. 18 & 19, Christ Church Neighborhood House, Second and Market.
More information at fringearts.com.
________________________________________
Merilyn Jackson reviews dance for The Inquirer
http://www.philly.com/philly/gallery/20150830_Dance_at_Fringe__Lucinda_Childs_looks_forward_and_back.html?viewGallery=y