Merilyn Jackson, For The Inquirer
Posted: Saturday, April 19, 2014, 1:08 AM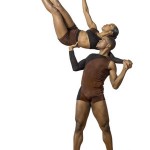 Adryan Moorefield and Janine Beckles of Philadanco.
The program included a mix of newer and older pieces.
To a packed house, Philadanco brought back Donald Byrd's 1995 BAMM at its spring offering at the Kimmel's Perelman Theater Thursday night. I first saw it in 2004 with the now-retired force of nature Odara Jabali-Nash as the center of its centrifugal force. This time, six dancers revolve around veteran company dancer Roxanne Lyst like numbers on a spinning clock.
The missing hands of this no-tick-tock clock are Mio Morales' quick-pulsed percussive score, which ultimately hurls the dancers from the circle and into various patterns around the stage. The men walked off and on stage ramrod-stiff, almost militaristic. But the spitfire Lyst remains in control, leading the others through Africanized, hunched-over skipping. Their fists pumped to the floor, pushing their shoulders up in synchronized rhythms.
It was such a sweet surprise when many of the same dancers came out next in Gene Hill Sagan's ballet Suite en Bleu, to the music of Handel and Bach, which, with its metronomic formalisms, mirrored Morales' score. Lyst, Rosita Adamo, and Janine Beckles, in soft hyacinth-blue gowns and ballet slippers, flared out their skirts in their tours, Tommie-Waheed Evans, Dwayne Cook Jr., and even the towering Adryan Moorefield lifting them joyfully as if they were flowers.
The company premiere of Ulysses Dove's 1984 Bad Blood, to Laurie Anderson's "Gravity's Angel" and "Walking and Falling" and Peter Gabriel's "Excellent Birds," seemed a little off-kilter on opening night. This normally sure-footed company did not yet have the piece in its belly, where they need it. It is a furiously brutal work about the search for connection through physical impact. I could see Beckles cross herself before running out from the wings to throw her spread-eagled legs around one of the men who had to take her impact without faltering. I have no doubt they will ultimately devour the piece with their typical fierceness.
That hunched-over Africanist skip returned in Rennie Harris' 2007 Philadelphia Experiment, only this time as a ghost of itself, haunting us from the centuries of slavery where even the muscle memory diminishes. Evans ferociously spurred the full company through its paces past Philly's darker moments – shown in a video collage by John Abner – to embrace the joy and fulfillment that hip-hop and dance bring to many of us in Harris' paean to our city. With so many slam dunks throughout the show, I wanted to jump up and shout: BOOMSHAKALAKA!
http://www.philly.com/philly/entertainment/20140419_Review__Slam_dunks_from_Philadanco.html#Oiq2X5KEM4BcfTPQ.99