Merilyn Jackson, For The Inquirer
Posted: Saturday, December 15, 2012, 3:01 AM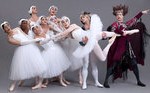 Ovations, spiked with wolf whistles, erupted throughout much of Les Ballets Trockadero de Monte Carlo's Thursday night opening Dance Celebration program at the Annenberg Center.
And the Trocks, as they affectionately call themselves, shamelessly cadged for more. Even during the final poignant moments of his solo – Mikhail Fokine's Dying Swan, to the famous Saint-Saëns music – Roberto Forleo, as Marina Plezegetovstageskaya, lifted his false eyelashes and furled his manicured fingertips, hustling for applause. But with his feathers flying, his chicken-walk deserved kudos.
His? But you knew the Trocks were an all-male ballet troupe, didn't you? And they dance en pointe, which can't be easy for some of the more jock-like body types. But the nearly 40-year-old company, with its ever-evolving corps, makes it seem so. With perfect port de bras and willowy arms, not only do they bourrée on tippy-toe to and fro and turn multiple fouettés, they leap like frolicking lords.
They began with their (in)famous Swan Lake, Act II. Paolo Cervellera, as Viacheslav Legupski, is Von Rothbart, running in circles, cape unfurled and with short dreads bouncing behind his bandanna-covered head. Was it he who kicked one of the cygnets over? No matter, these dancers recover from pratfalls and sideswipes with professional poise. In the famous synchronized quartet with arms en chaine, three cygnets carry on while one on the end does her own thing.
Raffaele Morra (Lariska Dumbchenko) as the Swan Queen Odette, falls (literally) for Prince Siegfried (Trystan Merrick as Mischa Youloustski) giving the coup disgrace to Rothbart.
But later, in the Black Swan Pas de Deux, Rothbart (now Giovanni Ravelo as Marat Legupski) wins out by confusing the Prince with Odile, danced uncannily by Chase Johnsey as Yakatarina Verbosovich. Here, Carlos Hopuy (Innokenti Smoktumuchsky) takes over as the Prince and gives astonishing ballon with his jetés.
In Go for Barroco, a quartet in simple black frocks take on Balanchine (Ballandchain – appellation mine) variations – speedwalking and circling in wide third position demi-pliés.
Laurencia had a Spanish theme, all triple-tiered skirts, mantilla combs, and toreador pants.
The robust Robert Carter (Olga Supphozova) danced Laurencia with countless fouettés, and Paolo Cervellera (Tino Xirau Lopez) wowed with his long series of barrel turns.
By opening with Swan Lake, the Trocks gave away too much, too early. But they make you laugh with them, not at them, and are truly a holiday hoot.