Merilyn Jackson for The Inquirer
Posted: Saturday, September 15, 2012, 8:00 AM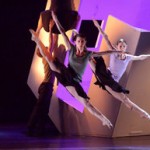 Seeking common ground for Philly's dancing feet in the coming season, I found it in the city's galleries and academic, scientific, and ethnic institutions. The exploratory and collaborative nature of the work that will take place in them could hold extraordinary surprises, given the people creating it. The dance-makers are Philadelphia artists, Nichole Canuso, Merian Soto, Kun-Yang Lin, and Meredith Rainey, who have proven themselves innovators and who bring personal charisma to their stage work.
All were born here, and stayed or returned because of the city's supportive atmosphere and fondness for the arts. The institutions they'll take over, from the American Philosophical Society to North Philly's Taller Puertorriqueño, serve diverse communities, uniting them through the arts.
Other companies and presenters are institutions in themselves. Joan Myers Brown's Philadanco has been breaking ground for 43 years. Pennsylvania Ballet is nearing its 50th anniversary with one of its most talented rosters ever. Now in its 30th year, Dance Celebration at Annenberg Center has always been the leader in importing dance. And there are always new venues – like Skybox 2424 Studios in a rehabbed factory in a flowering Fishtown neighborhood – that enrich their communities by making the arts more available to them.
Here are 10 events that promise to give you something new to think about, to make you laugh, or cry, or to just plain thrill you.
"Return Return Departure" (American Philosophical Society, Wednesday, Friday, Oct. 5 and 20, Nov. 17, Dec. 8, 215-413-9083 http://www.apsmuseum.org/nichole-canuso) What better place to set a duet reflecting on the love and study of knowledge and time than at the American Philosophical Society? At sunset, you follow choreographer Nichole Canuso and dancer John Luna as they dance from the gallery showing of Antonia Contro's exhibition Tempus Fugit: Time Flies into the enclosed garden, where they film each other in an evolving video record of their inquiries that then can be seen back inside the gallery.
SoMoS (Taller Puertorriqueño, 2600-24 N. 5th Street, Oct. 12) Merián Soto's work features three large geodesic tents and an outdoor performance area with simultaneous performances for audiences to move through at will. In this culmination of her seven-year Branch Dance Series, which included the One Year Wissahickon Park Project, she transforms the parking lot at Fifth and Huntingdon Streets into a quiet carnival of nature images, sounds, and movement invoking the seasons. It's part of Taller Puertorriqueño's free performance series, Café Under the Stars: Spotlighting the Arts in El Barrio, and takes place where Taller plans to build its next home.
Lar Lubovitch Dance Company (Annenberg Center, Oct. 11 to 13, 215-898-3900 or [email protected]) Dance Celebration opens its season with the Philadelphia premiere of Crisis Variations (2011) to Yevgeniy Sharlat's commissioned score. The piece won Lubovitch the 2012 Benois Prize; he is the first American choreographer to receive it. The ethereal 1978 North Star to Philip Glass' score, and The Legend of Ten, a 2010 work to Brahms choral music, fill out the program.
Symphony in D Minor Skybox 2424 Studios, Oct. 20, Nov. 2, Dec. 2, http://kunyanglin.org) New York artists Chris Klapper and Patrick Gallagher create an epic interactive sound and video installation, accompanied by Philadelphia-based Kun-Yang Lin at Fishtown's 2424 Studios. They'll "harness a thunderstorm" within a series of large hand-cast resin sculptures that will hang 40 feet below the ceiling, suspended within reach. Audience members set the symphony in motion by gently pushing the forms and triggering the sound elements – recordings of thunder, lightning, wind, and rain. Soloist Kun-Yang Lin can dance up storms of his own – he'll be a match for whatever weather Klapper and Gallagher order up.
Giselle (Academy of Music, Oct. 18 to 28, 215-893-1999 http://www.paballet.org) Pennsylvania Ballet dances the traditional Maurice Petipa choreography, as it has since 1988, when it opens its season with Giselle. Sixteen-year veteran principal dancer Arantxa Ochoa retires after this Giselle, in which she once again dances the role of the peasant girl who falls in love with a prince. When he betrays her she dies, but then rises from her grave to protect him from being danced to death by the vengeful Wilis – young women who died before their wedding day, but whose love of dancing keeps them on their toes all night.
Science per Forms (Christ Church Neighborhood House Oct. 25, 27 and 28, www.carbondancetheatre.com) Meredith Rainey's Carbon Dance Theatre initiates a collaborative series of dance and scholarship events that examine "the epistemology of technical, virtual, and robotic culture through the interface of balletic-based dance and interactive installations." Sense a touch of academe? Rainey is working with the Hacktory, a digital technology lab and artists resource center, and with professors Simon Kim and Mark Yin (Penn) and Mariana Ibanez (Harvard) to create a robotics environment where audience members will interact with cyborgs, dancers, and robots. Former Merce Cunningham dancer and Bessie-winning choreographer Jonah Bokaer takes part in the heady high jinks.
BalletX (Wilma Theater, Nov. 7 to 11, 215-546-7824 balletx.org) At 7 you supposedly reach the age of reason; for BalletX its seventh year marks the age of recognition. The Xers are embarking on another ambitious program of two world premieres and a Philadelphia premiere. Philly's wild-child dancer/choreographer Kate Watson-Wallace challenges the ballet-trained troupe to enter her playpen with an as-yet-untitled new work. Italy's Mauro Astolfi is almost too hot to handle right now, and with this BalletX commission you may get a taste of what will be on stage the following week at the Annenberg Center, when Astolfi's Spellbound Dance Company performs there. The finale has to be codirector Matthew Neenan's Switch Phase, which premiered to acclaim at the 2012 Vail International Dance festival.
Spellbound Dance Company (Annenberg Center, Nov. 15 to 17, [email protected]) The Italian troupe makes its Dance Celebration/Philadelphia debut as part of its first North American tour. The program includes founder Mauro Astolfi's Downshifting (2009) and Lost for Words (2011). Commenting on personal choice and will, "downshifters" imagine an alternative future in order to realize life more fully. Lost for Words mixes fluidity and virtuosity while reflecting on the role of language in human relations. These works feature music ranging from 17th-century virtuoso violin composer Heinrich Ignaz Franz Biber to today's electronica of Loscil.
Philadanco (Kimmel Center's Perelman Theater, Dec. 7 to 9, 215-893-1999 http://www.kimmelcenter.org) From triumphant appearances in world capitals during their rugged annual tours to sold-out houses at their Kimmel Center home base, Philadanco is both crowd-pleaser and artistic success. At 80, Joan Myers Brown still rules the roost, doing the programs herself. For this home season, she so far has scheduled Wiz choreographer George Faison's Suite Otis (to music of Otis Redding), and the Philadelphia premiere of Matthew Rushing's Moan (to Nina Simone).
Read more: http://www.philly.com/philly/entertainment/arts/preview/20120911_Seeking_common_ground_for_Philly_s_dancing_feet_in_the_NO_HEAD_SPECIFIED.html#ixzz2CEbba5XK