Monday, September 17, 2012
By Merilyn Jackson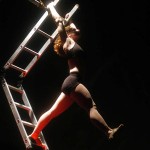 A huge, hexagonal, cagelike structure that reached to the ceiling commanded the space inside Pier 9 on Friday night for the premiere of The Gate Reopened by choreographer Brian Sanders' company, Junk. Surrounding it was a packed audience.
As Sanders' eight muscular performers — six men and two women — emerged, fleetly circling the Gate's base to the wild cheers of the crowd, I couldn't help but see them as gladiators. Instead of fighting each other, they fought height and gravity, calculating risk as they swung on bungees or launched themselves like simians against the chain-link fencing, which they gripped only by their fingertips and the J-hooks on their boots.
Sanders' work is always thrilling, inventive, daring, ingenious and very witty. It was gratifying to see him have a free hand with a good budget for the set and the Pedro Silva/Conrad Bender lighting design. The men — Connor Senning, Gunnar Clark, Teddy Fatscher, John Luna, Billy Robinson, and Tommy Schimmel — and the women, Jerrica Blankenship and Tamar Gutherz, were all topless, so the low lighting was perhaps to cast them in shadow.
Blankenship and Gutherz performed daredevil feats on a swinging ladder. Robinson took a big leap from the top into a watery canvas, only to be caught up in a sheet of plastic and then writhe his way out again. A mist sprayed them all in the final moments, catching the light magically and casting a mystical cloud over the scene. This was one of those performances where the line between dancer and athlete was blurred, if not obliterated. Indeed, the crowd strolled out into the fine evening in high spirits, as if we'd just been to a sporting event.