Posted: Sat, May. 19, 2012, 3:00 AM
By Merilyn Jackson
FOR THE INQUIRER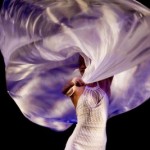 You could sum up the work of the genius stagecrafter and choreographer Moses Pendleton by saying he exceeds the influence of such peers as Alwin Nikolais, Elizabeth Streb, Mummenschanz, and Pilobolus, the now-41-year-old company he cofounded, then left in 1983 to form MOMIX. His inventiveness and artistry far surpass the popular Cirque du Soleil.
A Dance Celebration favorite, MOMIX opened at the Annenberg Center on Thursday night to a nearly full house with its show "reMIX." Instead of one of his evening-length works, Pendleton offered an exotic caravan of pieces — some new, some familiar — that drew oohs, aahs, and scatterings of applause throughout.
I'd love to be able to see into Pendleton's dreams just one night, but dreams alone don't make theater like this. It needs imagination, an understanding of the laws of physics — inertia, centrifugal force, gravity, weight, velocity — and the grit to work out the precision timing that keeps his dancers safe, all of which someone like Streb employs with ease. But like Nikolais, Pendleton brings beauty, mystery, emotion, and uproarious fun to the table, too.
In his and Karl Baumann's piece TableTalk, Steven Marshall, a phenomenal gymnastic dancer who performed in many of the works, splays his arms out and, with head below the rim of the table, draws us in with a powerful rippling of his shoulder muscles. He proceeds through every possible permutation of stance until finally he twirls the table on his back and carries it off.
In Tuu, with Rebecca Rasmussen, he holds and lifts her, with every press of the feet, lean of the body, fall, timed to perfection. In Dream Catcher with Cara Seymour, he commands a giant elliptically designed gyroscope, which the two pivot and swing around on in dangerous-looking variations.
Two dances by the company's women endeared with sensuality and wit: In Marigolds, Phoebe Katzin's fabulous orange frills enfolded the women and allowed them to shimmy the dresses down their bodies till they were rumba-like sheaths. Baths of Caracalla, by the same five women, now in white by Katzin, harked all the way back to Loie Fuller, with the women rippling their white skirts like bath towels, flags, or clouds.
Sputnik and Pole Dance were magnificent spectacles, using poles for balancing, vaulting, and flying, that Philadelphia choreographer Brian Sanders had a hand in contriving.
By the concert's end the ethereal, Asian-inspired ambient sound and lounge music grew tedious — my only complaint — so it was a great relief in the last piece, If You Need Some Body, to hear Bach, which I normally hate for dance. It made a perfect foil for the ebullient silliness of the company of 10 partnered by floppy dummies that ended up flying joyfully from dancer to dancer.