Posted: Fri, May. 4, 2012, 9:37 PM
By Merilyn Jackson
FOR THE INQUIRER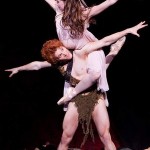 In J.M. Barrie's Peter Pan, the boy was dressed in leaves, as perhaps was Pan, the Greek god of nature whom Barrie had in mind. When Pennsylvania Ballet gave the ballet Peter Pan its Philadelphia premiere Thursday night at the Academy of Music with Alexander Peters as the boy from Neverland, his sprightly body was not clad in leaves, but scantily enough in shorts and straps around his chest to suggest a ruffian from the wilds.
The Oregon Ballet originally commissioned choreographer Trey McIntyre to create this Peter Pan, his first full-length ballet, but funding problems caused him to set the work on the Houston Ballet in 2002. Though he came to Philadelphia to polish his gem on this company, there were still some rough edges opening night.
The flying sequences, in which Wendy (Evelyn Kocak), John (Jonathan Stiles), and Michael (Abigail Mentzer) take off with Peter, had to be rehearsed in another theater until two days before the first performance. Pan was also the god of theater criticism, so I think he might have forgiven the slight scenery malfunctions and occasional missteps when dancers could not always find their places.
As delightful as he was aerially, the young Alexander Peters was not up to par partnering a taller Kocak. In one horizontal slide, he thudded rather than slid her; later, Kocak, with Zachary Hench as Hook, performed the slide perfectly.
With her striking, sophisticated looks, Amy Aldridge — who rose from apprentice in 1994 to principal in 2001 and is a senior company member — struck me as poor casting for Tinkerbell. However, she appeared only once, briefly, and then was represented by a flickering light. (McIntyre did not include one of the most endearing sections for young audiences — for many their first audience-participation experience — when Tink is poisoned and they have to clap her back to life.)
The great story ballets — Firebird, Spartacus, Swan Lake, Romeo and Juliet — link generations across time with upswept melodic themes that weave throughout, signaling plot changes. The humorless hodgepodge score of Sir Edward Elgar's music, arranged by Niel DePonte, was the slightest, most unmagical element of the ballet.
Nevertheless, there was plenty of magic inside the gorgeous "Grand Old Lady of Locust Street" Thursday night. Hench as Hook was commanding, the huge crocodile grouchily hungry. And wonderful group dances among the Shadows, Redskins, Pirates, Lost Boys, and Mermaids — where soon-to-retire Arantxa Ochoa does a comic turn — save this darkly imagined Peter Pan. You'll live forever in our hearts, Peter.