Posted: Fri, Apr. 27, 2012, 2:08 PM
By Merilyn Jackson
FOR THE INQUIRER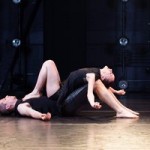 What modern choreographer doesn't want to sink his teeth into making a new Bolero? Sure, everybody's done it. But Roni Koresh really made a quirky new one for Koresh Dance Company's spring opener Thursday night at its home base, the Suzanne Roberts Theatre. Koresh titled the evening's four works "Out/Line," which also was the name of the first of three world premieres on the bill.
But it was his fresh take on Bolero that outshone all the other works. Bronislawa Nijinska choreographed the first Bolero, which was commissioned by Ida Rubenstein in 1928. Nijinska set it in a tavern, where Rubenstein danced on tabletop. But composer Maurice Ravel had envisioned the work in a factorylike setting, because its rhythms sounded mechanically driven. Koresh boldly strayed from the usual sensual, even erotic renditions, taking his cue from Ravel's original vision and adding lots of humorous notes. His sensational dancers even smiled while dancing it, and I don't think I've ever seen a smiling Bolero before.
There were some signature Koresh gestures throughout: splayed fingers, shaky hands, elbows up, clasped hands, and eyes raised to heaven. But they seemed there as a grounding sign, a cheeky reminder that, hey, this is fun, seriously.
Mechanistically, sometimes even militaristically, the dancers emerge from the black background to the harshly lit (by Robb Anderson) foreground in solos, pairs, and trios, with, eventually, the full company, and then disappear in groups back into the black. Their chic black costumes were by Bela Shehu.
Koresh varies several simple step combinations, mostly walking-based, using them like the music, to build the sensation of the dance. Joe Cotler, Micah Geyer, and Eric Bean are the current male lineup in the now-21-year-old company and, as usual, they carry the load of partnering, though there is no heavy lifting. Here they bend forward, hands on the floor, swinging their legs behind them from side to side. They make wide-open giant steps and when the charming social dancing begins, the women partner and lead each other. Everyone waits for the final falling crescendo of the music, but Koresh adds a teensy coda note with one dancer in a spot, just for laughs.
Out/Line was the evening's weakest piece, not only for its loud, pointlessly boring music, but also for its relentlessly pugilistic, martial-arts look and length.
The Heart had many moments of sweet appeal, but these long, episodic works are really wearing thin. Who wants to nibble at a gallimaufry of cold scraps when you can feast at a fully conceived and realized banquet like Koresh's Bolero?