MERILYN JACKSON
for Broad Street Review
Posted: 3/10/12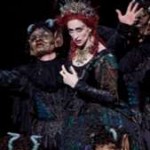 In Warsaw 12 years ago I attended an afternoon concert and afterward dashed across the square to the Teatr Wielki to see if I could get into a Nijinsky Gala on just that one night. The box office was closed, but I stuffed 20-zloty notes into the pockets of two apple-cheeked ushers— "For piwo (beer)," I explained— and they sneaked me in.
The choreographer Emil Wesolowski's fabulous reconstruction of Nijinsky's Jeux was just beginning, with Slawomir Wozniak Sr. dancing lead. After Wesolowski's over-the-top Rite of Spring, I went backstage to meet him.
When each of us exhausted our respective supplies of Polish and English, Wesolowski took me to Wozniak's dressing room. Still in his dance belt, Wozniak became our interlocutor. Upon hearing his excellent English, I asked if he'd been to the States.
"Oh, every year I go to dance Nutcracker in some place called Phoenix," he replied.
When I laughed, he asked archly, "I said something funny?"
"Oczywiscie (of course)," I explained. "I have a home in Phoenix where my husband teaches, but we're never there over Nutcracker season."
The dance world can be as small as it's grand. Wozniak eventually moved to Phoenix permanently and now is the director of its Master Ballet Academy, where the recent Bolshoi defector David Hallberg trained as a youngster. Wozniak's sons, now entering their 20s, are dancing with Ballet Arizona.
Sneaking in, again
Now fast-forward 12 years. I was flying from Philadelphia to Phoenix a few weeks ago, planning to see the Trisha Brown Dance Company at the Scottsdale Center for the Performing Arts and hoping to see works by Will Bond and Michael O'Connor in Phoenix as well. I'd also hoped to pop in on David Krensing, the former Pennsylvania Ballet principal, who now lives in Tucson but teaches at Ballet Arizona on alternate Saturdays.
But once seated on the plane, when I picked up US Airways Magazine, it opened to a page about Ballet Arizona and its director, Ib Andersen. Lucky me. That weekend Ballet Arizona was dancing Sleeping Beauty, and I immediately changed my plans so I could catch the last show at 5:30 Sunday night.
Yes, Phoenix is still a sleepy town, with just about everything happening an hour or two earlier than we Eastern folks are accustomed to. The State of Arizona was celebrating its 100th anniversary— that is, it's been around as long as Sleeping Beauty slept.
At the box office, I introduced myself and asked if they could get me in. Once inside, I went to the bank of dancers' photos to see who was new and whom I might remember from years past. I was happy to see Paola Hartley was still there, dancing that night as Fairy of the Enchanted Garden with her Cavalier, Zherlin Ndudi. The great Astrit Zejnati was still there too.

Familiar faces

I found many new faces since I'd last seen Ballet Arizona. But Ilir Shtylla, an Albanian (like Zejnati) who first danced at Pennsylvania Ballet when he came to the States in 1999, has been with Ballet Arizona since 2003. So the Ballet Arizona boasts a strong core that upholds its institutional memory while bringing in fresh and hungry young upstarts as well.
As I pored over the photos, it was déjà vu all over again as I caught the young faces of two such young upstarts: Michal and Slawomir Wozniak, sons of the dancer I'd met in Warsaw.
In Sleeping Beauty, they performed several roles, with Michal dancing Bluebird the night I saw it, to thrilling heights in his jêtés, but also as an equally thrilling stage presence. The brothers alternated in the Bluebird role on different nights.
It was one of those unforgettable nights in the theater. The newly refurbished Phoenix Symphony Hall's fantastic acoustics perfectly caught the conductor Timothy Russell's sparkling reading of the Tchaikovsky score. The sumptuous sets (which filled the huge stage) and costumes were borrowed from the Boston Ballet, via the Royal Ballet circa 1970. The house was almost sold out, with many yummy little girls in gumdrop-like outfits on display.
In a big, story ballet like Sleeping Beauty, all 34 of Ballet Arizona's dancers had roles. But best of all was Ib Andersen's faithful yet fresh interpretation of the original 1890 Marius Petipa choreography.

From Taiwan, via Pennsylvania
It's in the big ballets that Andersen's light touch and meticulous attention to detail really shine. Even at over two and a half hours (minus intermission), Andersen's Beauty never put anyone to sleep (other than the court on stage).
On my program, Natalia Magnicaballi, who's been with Ballet Arizona since 2002, danced the Lilac Fairy and Shtylla played her Cavalier. The exquisite Taiwanese and Pennsylvania-trained Tzu-Chia Huang took command of the stage as Princess Aurora. In Act II, a century later (well, it seemed that way, waiting for him), Zejnati finally appeared as Prince Désiré (yes, can you take the subtlety?).
Zejnati's pas de trois with Magnicaballi and Huang, after he kisses her awake, gave a taste of the glory to come in his grand pas de deux with Huang. There, his footwork and strength as a leaper contrasted with Huang's unutterable delicacy and poise. The Wozniak brothers acquitted themselves like true Slavs in the Polonaise/Mazurka finale. I hope I'll be lucky enough to follow their careers for many years, whether in the East or the West.