February 9, 2012
By Merilyn Jackson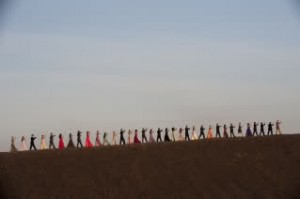 Few choreographers have the power to effect life-altering changes the way Pina Bausch did over the course of her 50-year career, and, even now, three years after her untimely death. That is what Pina does. She changes your life. She changed mine and she changed the lives of others I know. She altered my life so much, before and still long after I met her, that I have always felt touched, blessed, and saw my own work stretch to a level beyond what I had achieved. I'm even writing a poem about her effect called Pina, Queen of the Desert.
German filmmaker Wim Wenders in a recent NPR interview spoke about the first time he went to a performance by Bausch and her Tanztheater Wuppertal. "I found myself on the edge of my seat, crying like a baby after five minutes, and crying through the entire thing," he recalled. "I was hopelessly, helplessly crying, and didn't know what was happening. It was like lightning struck me." The work? It was Café Müller, from 1985, and he says it changed his life.
Anyone who's seen the film Pina (I have, three times, in previews in Philadelphia and New York) is struck with wonder, even if they haven't seen it in 3D. I made a new friend: a German professor teaching in the U.S., he had not known about Bausch, but was so taken by her and the film that he ordered it in Blu-Ray for his university library, yet hasn't seen it in 3D. I told him he can't imagine the adrenaline rush of nearly ducking when a sheer curtain flies toward you, a Wuppertalian monorail car feels as if it will run you over, or buckets of water come splashing at you.
To read the remainder of the article:
http://www.danceusa.org/ejournal/post.cfm?entry=life-lessons-from-pina-and-pina