Posted: Mon, Jan. 23, 2012, 3:01 AM
By Merilyn Jackson
For The Inquirer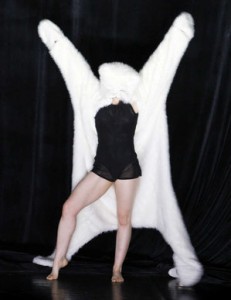 Thirdbird bills itself as the new "wing" of Ladybird and Bowerbird, the organizations directed by Anna Drozdowski and Dustin Hurt. As scouts and presenters, Drozdowski and Hurt bring together movers and music makers from near and far, producing concerts in various and sometimes out-of-the-way venues.
Thirdbird's second flight landed at Christ Church over the weekend with Voransicht, pairing soprano, pianist, and composer Judith Berkson in the first half with dancer, choreographer, and performance artist Eleanor Bauer in the second. Both gave soaring performances that left the packed audience floored.
Voransicht, in German, means preview, and that is what Berkson delivered: an hour-long glimpse at a much larger opera to be performed with chorus and other musicians next fall. As a soloist on piano, drums, and keyboard and as a singer, she made this Voransicht as lush as a Babylonian garden in moonlight. The music, which also used electronic score, was mostly microtonal and chromatically rich.
Her vocal output, inflected with idiosyncratic tics, ranged from soprano down to a very low register that was powerful and weighty for a person of slight stature. She startled with articulations of unexpected vowels exploding on top of other sounds.
Voice output and stature figured in Bauer's Big Girls Do Big Things as well, and in a big way. Bauer is tall and as ravishingly curvy as her concepts. She slips into a polar bear suit lying on the floor and creates the most mysteriously interesting or hilarious collages of movement. This beauty is not afraid to sweat or be ludicrous, but her humor drips with irony, intelligence and, perhaps, some tamped down rage.
Who could sustain such a high-pitched hour of switching between drollery and swanning her arms exquisitely without a simmering undercurrent of a passion, such as rage? Once the polar bear fur comes off, she is back down to her sexy black teddy, feet in high, white pumps that intensify not only her gorgeous legs, but also her vulnerability and danger as she climbs a ladder in them. Slowly, she sings Patsy Cline's "Crazy," taking her pitch up an octave for each rung. It's excruciatingly funny at first but gets devastating the higher she goes and the song and she begin to disintegrate.
As a woman of substance, Bauer went far beyond what she has to work with to become a dance artist of the highest state. Kudos to Thirdbird for bringing Bauer and Berkson to Philadelphia. Wow!

http://www.philly.com/philly/entertainment/20120123_Thirdbird_soars_with_music__dance.html