Posted: Sat, Jan. 21, 2012, 3:01 AM
By Merilyn Jackson
For The Inquirer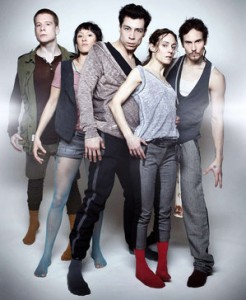 "Gravity of Center" was performed by the Montreal troupe RUBBERBANDance at the Annenberg Center.
The 10-year-old Montreal troupe RUBBERBANDance returned to Annenberg Center on Thursday evening with the Philadelphia premiere of Gravity of Center. In focus and technique, the soulfully danced work far surpasses the company's last offering here in 2008.
The vision of company founder and former hip-hop dancer Victor Quijada is to blend his b-boy background with ballet as well as such martial arts movement as capoeira. In Gravity of Center, he's crystallized this style into what I'll call "acro-balletic."
With his co-artistic director, dancer Anne Plamondon, and their collaborators, DJ Jasper Gahunia, who wrote the music, and Yan Lee Chan, who created the lighting design, the team has made a homogeneous work in perfect pitch with its concept. I like seeing hip-hop danced raw on the street, but seeing it danced more slowly and by well-trained dancers like these is like eating tournedos de boeuf instead of hot dogs. There's nothing wrong with hotdogging on the street, but it can go only so far.
With this work, RUBBERBANDance pares break-dance phrases down to their core and spins lovely strands that seamlessly link them. Quijada was inspired by the disparity between social classes created by the economic failures of recent years. Elon Höglund, Emmanuelle Lê Phan, Daniel Mayo, and Plamondon appear with Quijada in near-darkness struggling with one another, but also against something larger, outside their understanding. The movements flow one from the other in an endless stream, arms slipping over shoulders, legs over backs, necks under torsos. In one phrase, dancers appear to be stepping out of each other's circled arms as if from a pair of trousers.
Plamondon and Quijada go at each other, simulating head butts; the men have several elegantly crafted fight scenes, always blending the dynamics of hip-hop with the stretchy formalisms of ballet.
They all wear multiple layers of clothing that one expects will be peeled away as the dance reveals itself. But they remove only a vest here, a shirt there. In one instance, a male throws his jacket away after he is ejected from the group. It becomes, for the woman who loves him, a talisman. Eventually, she finds him again, and, forming a human chain, they all pull him back into their community.
Somehow the despair and fear of living in poverty come through. A pulsing light high in the flies beckons. The woman ventures out beyond their circle of light into darkness and is left alone at the end. Is she the one who escapes or is she abandoned?
Read more: http://www.philly.com/philly/entertainment/20120121_Hip-hop_and_ballet_in_a_soulful_blend.html#ixzz1k7Cb7Cz