"Merilyn Jackson says Shantala Shivalingappa brings spare elegance and beauty to the four solos she performs in tribute to her teachers and mentors, particularly Pina Bausch."
Posted: September 12, 2011
By Merilyn Jackson
For the Inquirer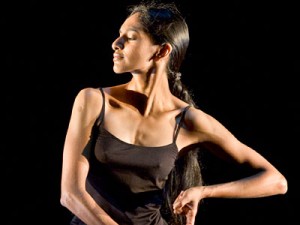 The moment Shantala Shivalingappa appeared at the Brooklyn Academy of Music's in Tanztheater Wuppertal's Bamboo Blues in 2008, the audience inhaled collectively as if a floral scent had suddenly wafted onto the stage. It had.
It wasn't the first time Shivalingappa danced with Pina Bausch's company, but it was the first whiff of her we had in the States. She appeared shorter, more adorably childlike than the older, wiser, perhaps jaded, Wupertallers.
At the Arts Bank Sunday night she danced four solos in a brief evening she devised, looking anything but childlike. She called the evening Namasya, an homage to her teachers and mentors, not the least of whom was the late and still-mourned Bausch.