Posted on Wed, Mar. 30, 2011
By Merilyn Jackson
For The Inquirer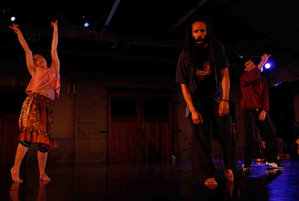 JASON CHEN
Vince Johnson's athletic "Drunken Monkey," about a troupe of warrior monks, was performed by Christina Gerena (left), Johnson, and Edwin Lopez.
Indigenous Pitch Dance Collective (which is also a dance company) aims to support and promote the diversity of Philadelphia's choreographers and their homegrown dance styles, and did precisely that on the weekend with a double dance feature at the Performance Garage: It opened with former David Dorfman Dance member Curt Haworth's Either/Or and went on to Vince Johnson's Drunken Monkey.
Haworth has been teaching at University of the Arts and making dance here for a decade; he recently founded Philly PARD (Performance Art Research and Development). For Either/Or, he collaborated with several well-known local dancers, among them Bethany Formica Bender, John Luna, and some of the Indigenous Pitch dancers, and framed the work with texts from Kierkegaard and Beckett. The dancers perform quite an acrobatic act between thoughts of these two mental giants, with handstands, cartwheels, and a series of Sisyphean rises and falls by Formica Bender.