Mar 3rd, 2011 by Steve Des Georges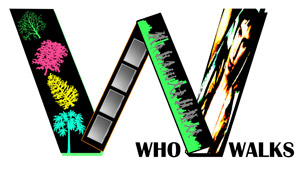 "Who Walks," just like the Mounds Bar and Almond Joy, is "indescribably delicious." Indescribable, because it is difficult to pay proper homage in only a few words to the ArtSpace West dance and theatre performance created by Arthur Sabatini, an associate professor in the New College of Interdisciplinary Arts and Sciences. Delicious, because it emcompasses so many art forms in a single setting.
Mark your calendar for this Saturday (March 5), 7:30 p.m., in ArtSpace West on the second floor of the West campus University Center Building (UCB), and see for yourself.
"Who Walks" is a continuation of Arthur (AJ) Sabatini's 2008 play, "Certain Explanations: Magical Walking," which debuted at Second Stage West on ASU's West campus. The performance takes up the original "Magical Walking" story scripted by Sabatini. This latest offering features dance, music, conversation and video in a tale of a mysterious woman in a cape, who resembles an ancient statue and moves in the thoughts of a man writing at his desk. Crowds appear and walk as if in a memory coming alive. Sabatini's creation is a multi-media collaboration with Philly-based composer Peter Price, dancer Megan Bridge and Phoenix videographer Robert Kilman.
For the rest of the story and more information, click here.
http://westcampusconnect.asu.edu/?p=3156
http://westcampusconnect.asu.edu/?p=3156