Posted on Tue, Feb. 8, 2011
By Merilyn Jackson
For The Inquirer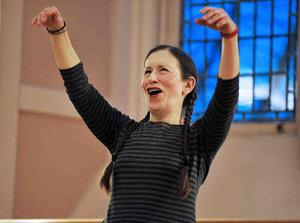 SHARON GEKOSKI-KIMMEL / Staff Photographer
Monk, composer, dancer, and director, completed a residency at Bryn Mawr College Sunday with a performance featuring her "Education of the Girlchild" from 1972.
At Bryn Mawr's McPherson Auditorium Sunday afternoon, the first dancelike movements Meredith Monk made in her 1972 solo from Education of the Girlchild were small, rhythmic hand movements. They opened up to a still-minimal and unembellished upswept arm, a small bend, and a turn of the knee – not so much dance, but the expression of dance.The performance was the culmination of a weeklong residency in which the Peruvian-born Sarah Lawrence grad and MacArthur Fellow, who was just named one of NPR's "50 Great Voices," led workshops that explored her singular brand of vocalese and movement.
Monk, 68, begins Girlchild sitting motionless in whiteface, wearing a gray wig and baggy muslin pants laced with leather strips. Her puppetlike gestures recall younger days, and soon she removes the wig, reverentially kneeling to the age she would become as she loosens her hair and personifies a younger version of herself. With its superb theatricality and stagecraft, the piece gained in poignancy as I realized she is now reaching the actual age she envisioned 40 years ago.
To Read More: